Short Rib Stew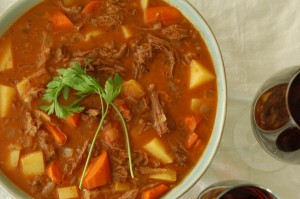 Courtesy of SousVide Supreme Culinary Specialist, Madeline Fiore
Serves 4-6
INGREDIENTS
2 tablespoons (30 ml) extra virgin olive oil
8 tablespoons (113.5 g) cold butter, divided
2 large onions, chopped
4 large cloves garlic, minced
1 quart (946 ml) beef stock
1-1/2 pounds (680 g) red or Yukon gold potatoes, cut into large chunks
3 large carrots, peeled and cut into large chunks
14.5 ounces (411 g) crushed stewed tomatoes
1 sprig fresh rosemary
6 sprigs fresh thyme
2 small bay leaves
1 cup (237 ml) cooking juice from Madeline's Sous Vide Short Ribs
1 cup (237 ml) dry red wine
4 to 6 Madeline's Sous Vide Short Ribs, meat flaked and pulled apart
Sea salt and freshly ground black pepper, to taste
Italian flat leaf parsley, for garnish
DIRECTIONS
Fill and preheat SousVide Supreme to 185F/85C.
Using a traditional stovetop, heat a large skillet over medium heat. Add olive oil and 2 tablespoons (30 ml) of the butter.
Once the butter is melted, add the onions and cook until translucent, about 8 minutes.
Add the garlic and cook until soft, about 2 to 3 more minutes; be careful not to brown.
Put the remaining vegetables and herbs into cooking zip pouches and divide evenly the cooked onions and garlic into the pouches, pour in the beef stock and stewed tomatoes, toss in the herbs, add in the reserved cooking juice and season with salt and pepper.
Use the displacement method (Archimedes' Principle) to remove the air and zip the seal of the pouches.
Put the pouches into the water oven and set the timer for 2-3 hours.
Meanwhile, in a medium saucepan over medium-high heat, reduce the red wine by half. Set aside.
After 2-3 hours have passed, open the pouch and ladle the cooked vegetables into a serving bowl, along with at least one quarter of the cooking liquid. Reserve the remaining half to three-quarters of cooking liquid.
Add the remaining cooking liquid to the wine and reduce the mixture by half, until slightly thickened. Reduce the heat to a gentle simmer and stir in the remaining cold butter one tablespoon at a time. Toss in the flaked apart short rib meat and warm through.
Remove and discard any of the herb stalks and bay leaves.
Pour the thickened meaty wine sauce over the stew.
Serve the stew over Sous Vide Polenta and garnish with chopped parsley.